S-arylcysteine that does not exist in raw garlic is generated exist in Black Garlic.Fermented Black Garlic's S-arylcysteine can be effective fro preventing cancers.Natural Fermented Black Garlic's S-arylcysteine can also be effective fro preventinginhibiting cholesterol.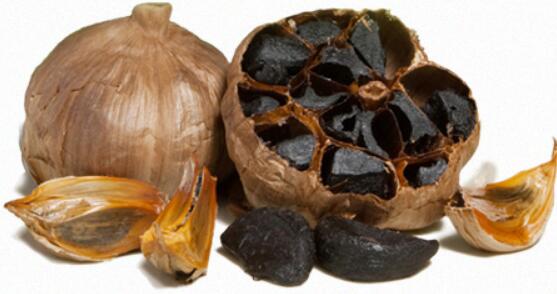 Moisture Content:

Fermented Black Garlic

Type:

Black Garlic

Color:

Black

Fermentation Days:

90 Day

Net Weight:

70g

Transport Package:

Carton

HS Code:

2005999990
Specification:

6.0cm, 10kg/carton

Style:

Whole

Taste:

Sweet and Sour

Lead Time:

20-40 Day
Specifications
1.Health foods
2.Raw material from fresh garlic 6.0-6.5cm
3.Popular in Japan, Korea, Southeast Asia
Method: Skinning ready-to-use
Nutrients: amino acids, ajoene, vitamins, nicotinic acid, lipoid, calories, sodium, calcium, iron, zinc, potassium, magnesium, selenium and so on.
Packaging & Delivery
1.Packaging Details: 2pcs,4pcs,6pcs in vacuum bag/ bag in ctns
inner packing: plastic tank
outer packing: standard carton packing
2.Delivery Detail: 20 days after you order
3. Storage: Store in dry and shady place, avoid sunlight and high temperature;
4. Shelf life: 24 months;
We have single clove and multi-clove black garlic for your choices, packing can be customized.
And we'd like to help you to design and print the product label.
Welcome inquiry!
Features of Fermented Black Garlic
1) The Organic Content Table of the Fermented Black Garlic per 100g
2) The Inorganic Substance Content Table in the Fermented Black Garlic per 100g
3) The Nutriment & Vitamin B Content Table in the Fermented Black Garlic per 100g
4) Effect of 18 Types of Amino Acids on Human Body
5) Physiological Action of Amino Acids That Necessary for Livestock and Birds
6) Indispensable Amino Acids
7)Types of Protein
8) Efficacy of Protein
9) People Who Need Protein Replenishment


Product advantage

1.Its antioxidation capability is significantly increased, 10 times hgher than that of raw garlic, while the essential effectiveness of garlic is not reduced. Some foreign data indicate that there is a significant antioxidant activity of aged garlic extract on sickle red blood cells by reducing the Heinz body count.
3.S-arylcysteine that does not exist in raw garlic is generated, which is effective fro preventing cancers, inhibiting cholesterol, improving arterial sclerosis, preventing arterial sclerosis, etc.
4.The content of polyphenol is significantly increased, which is effective for inhibiting oxidation of cholesterol, inhibiting generation of avtive oxyen and preventing arterial sclerosis.
It smells natural garlic itself, but does not have intrinsic unpleasant smell of garlic coming out of a persons body with his breath after eating garlic.
5.The Aged Black Garlic is obtained as a food without any additive only by self-aging. It's a simple and natural prescription for better health.